Why we are doing it?
In 2020, Established in development, continuing the original while starting the new, the global promotion strategic plan of Red Lantern Firework is comprehensively initiated. Official website is a window for the outside world to know about the company as well as a bridge for customers to choose products, thus, Red Lantern Firework has made a brand-new design for the official website, replanned and rearranged its main functional modules and contents, so as to devote to providing more convenient personalized customizations as well as diversified experience and services for customers.
The new-edition website has been formally popped up online and operated on July 4th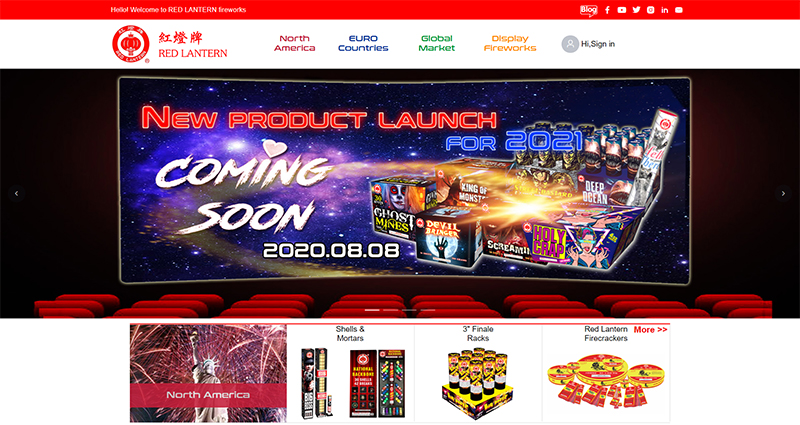 When it starts?
Aug. 2020- Sep. 2020
The company will launch a series of launch events for new products of Red Lantern Firework, and the time of each launch event will be published on the official website in advance.
What is about?
1. Opening ceremony on Aug. 8, 2020
2. The first release of new products, in which several brand-new products will be pushed out to the market;
3. Function introduction of official website
4. Opening of VIP customer application channel on official website.
Where and how to attend?
Company official website: www.redlanternfireworks.com
Blog: blog.redlanternfireworks.com
Various social media will synchronously circulate and play the release, please follow the updates on our official website and the homepage of our social media platform at scheduled time.
Facebook: https://www.facebook.com/redlanternfireworks/
Twitter: https://twitter.com/redlanternfire1
Youtube: https://www.youtube.com/playlist?list=PLPklfBqzxpXMusYkCvjosLdtzCkTQp0Vz
Who can join in?
We sincerely invite all firework importers, retailers, consumers and firework fans to participate and view;
Meanwhile reservation for new products of our company is started, importers can place orders directly on our official website or contact salesmen of our company; retailers and consumers can place orders from importers that you are well acquainted with.
Red Lantern Firework will serve for every customer wholeheartedly and enthusiastically, we welcome your arrival.