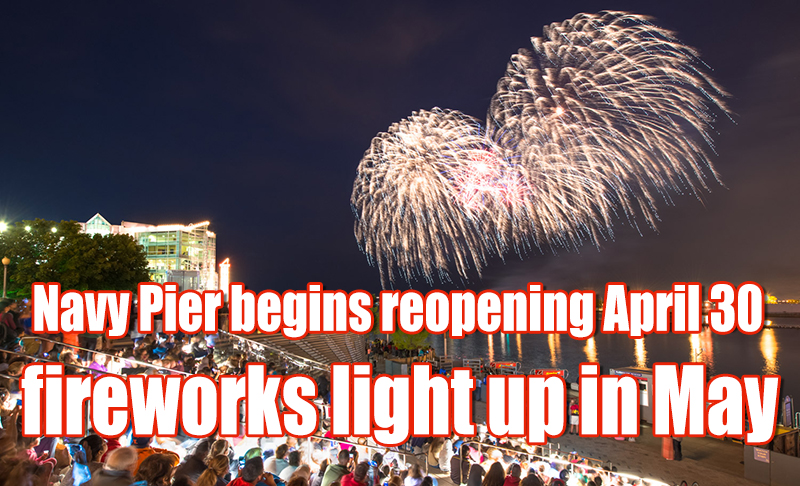 Navy Pier will reopen this summer with a phased reopening beginning April 30, the Pier announced Tuesday. And lest you need a reminder that summer is indeed coming, the fireworks will be back on the lakefront as well, as well as in many of Chicago's suburbs.
The initial reopening will include the Navy Pier parking garages, Polk Bros Park, the North and South Docks, Pier Park, East End Plaza, tour boats and cruises, the new Sable hotel, and select restaurants at limited capacity. The Centennial Wheel, Pepsi Wave Swinger and Carousel rides will all be open. Indoor spaces and retail stores will remain closed, and the Chicago Children's Museum and Chicago Shakespeare Theater also are not part of the reopening.
Hours of operation will be from Sunday to Thursday 10 a.m. to 8 p.m. and Friday and Saturday 10 a.m. to 10 p.m.
To celebrate the reopening, Navy Pier will host a 10-minute fireworks show at 9 p.m. every Saturday in May until Memorial Day weekend. According to the announcement, the first fireworks presentation on May 1 will be dedicated to health care professionals and front line workers.
There also likely will be Fourth of July fireworks, with a full summer schedule to be announced later.
"We were cautiously optimistic," said Michael Cartolano, president of Melrose Pyrotechnics of Kingsbury, Indiana, about this summer. His company will provide the fireworks display, as in past years, launching from a barge in the lake.
His company also provides fireworks displays for many of the Chicago area's suburban towns, including Naperville and the northern suburbs, and says 70% of his customers have said yes to doing some kind of fireworks display for Fourth of July. Of the remainder, some are thinking about Labor Day shows instead.
He has plenty of fireworks stored up from last summer, he said, as well as some new stock.
"Navy Pier always gets the best display," he said. "It's like a showcase for us."
Restaurants on the Pier that will be open as part of the initial reopening phase include Billy Goat Tavern, Giordano's, Harry Caray's Tavern, Margaritaville and the Offshore Rooftop and Bar. The Sable hotel's Latin-inspired Lirica restaurant opened in March.
The boat tours run by Odyssey, Shoreline Sightseeing and Seadog will resume, according to the announcement.
Navy Pier, a nonprofit organization, has been closed by the pandemic since last Labor Day weekend. The reopening will follow city and state health guidelines, including limiting capacity on rides and select spaces and enforcing social distancing and use of face masks.
Indoor spaces and a full reopening — the second phase — will hopefully come Memorial Day weekend, said Pier spokesperson Payal Patel, health conditions allowing.
"That's our usual start of the summer season, and that's our target for the second phase," she said. "We're optimistic."
Source: https://www.chicagotribune.com/entertainment/ct-ent-navy-pier-reopens-fireworks-20210420-335ulnh5v5bqrhyl4m6fqmf2hi-story.html
Reprint: Red Lantern Fireworks