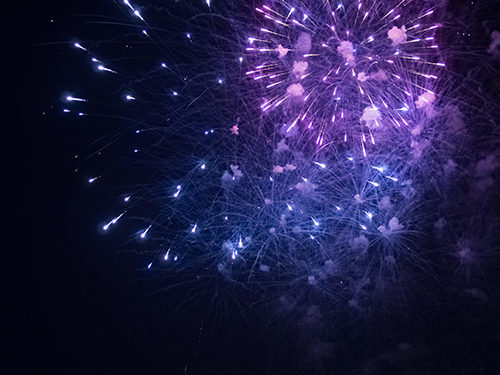 For many people, beautiful fireworks are the highlight of the annual New Year's Eve festival and thus the start of a successful new year.
Many people are unaware of the dangers and the correct handling of pyrotechnic articles. Even products that have no (or a fake) CE mark pose an enormous risk. The experts from the IBS – Institut für Brandschutztechnik und Sicherheitsforschung in Austria are constantly confronted with the negative effects of pyrotechnics in administrative proceedings, in the determination of the causes of fire and explosions as well as in court proceedings. A series of pyrotechnic tests was carried out to empirically obtain well-founded technical principles and to determine the legally accepted risks for body and life as well as for property.
In addition, it is currently being discussed across Europe to cancel fireworks for New Year's Eve this year. The main reason is certainly to avoid crowds – but also that the hospitals are not burdened with injuries caused by firecrackers. That is exactly the subject of the series of experiments.
Pyrotechnic categories
Various products of classes F1, F2, F3 and F4 as well as non-approved and illegal products were tested as part of the test series. F1 and F2 are commercially available and may be used by consumers for entertainment purposes according to the Austrian Pyrotechnics Law (PyroTG 2010).
The F3 category contains professional fireworks, "which represent a medium risk, intended for use in wide, open areas outdoors and whose noise levels do not pose a risk to human health".
In Austria, category F4 includes the larger fireworks.
These are "fireworks that pose high risk, are only intended for use by persons with the appropriate specialist knowledge and whose noise level does not endanger human health" (Pyrotechnics Law 2010).
A minimum age of 18 years and an official permit are required for categories F3 and F4. In addition, the user needs specialist knowledge in form of a pyrotechnic pass for the relevant category. Safety and usage regulations are prescribed in the approval notice.
Risk analysis and security measures
The improper use of pyrotechnics is prohibited according to the Pyrotechnics Law and poses an enormous risk. The setup of the measuring equipment and the test procedure can lead to unexpected reactions and explosions close to the ground. For this reason, a very extensive hazard and risk analysis was carried out for the tests. The resulting dangers were identified, and appropriate safety measures were taken. Over 100 ignitions were carried out during the tests.
Exit speed
Top speeds of up to 85m/s could be measured for sho-boxes, which is approx. 300 km/h. For bullet-bombs, the measured values were significantly higher at approx. 123 m/s, i.e. approx. 440 km/h.
Recoil and impact energy
For products that emit special effects, there is also a resulting recoil. This recoil can represent a major source of danger in certain cases, for example when burning down on boats, on poor ground or with defective launchers.
It was also crucial to determine the impact energy at head height. I.e. when a person bends over the product. The results of the individual products partly exceeded all expectations.
For comparison: If you hit the pressure cell with a mallet weighing 1 kg by hand with maximum force, this generates an impact energy of approx. 500 kg. Values (in this case pressure on the ground) of up to 6300 kg could be measured with firecrackers.
Source: https://cfpa-e.eu/fireworks-for-scientific-purposes/