Fireworks shortage is over in Central Texas, retailers say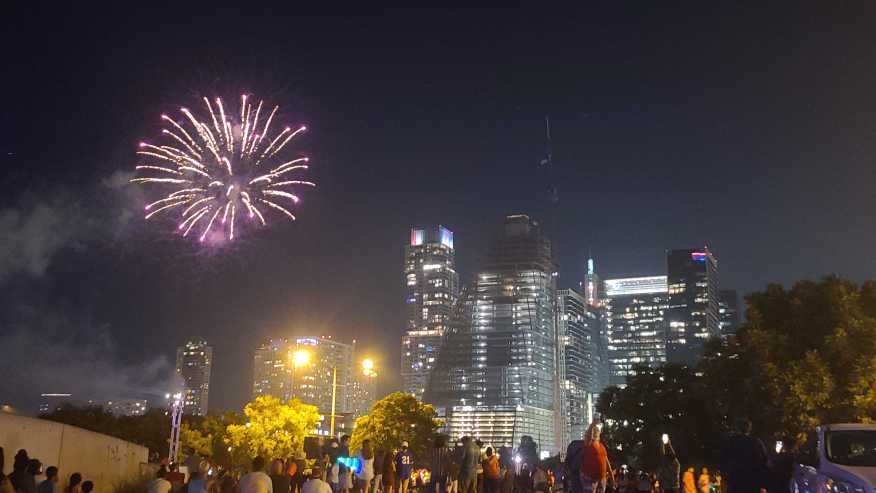 AUSTIN (KXAN) — Expect the Central Texas sky to shine and sparkle with fireworks over the New Year's holiday weekend. Fireworks retailers are reporting the supply chain issues that forced shortages during July 4 "are no longer an issue," according to a release from American Fireworks.
Chester Davis, owner of American Fireworks, said the company "received large shipments of fireworks and [the] warehouse is the fullest it's been in months."
BACKGROUND: Texas sky may not sparkle as fireworks shortage hits for Fourth of July
Like numerous other products during the summer, fireworks were a supply chain-casualty due to import issues in China.
The window for buying fireworks opened Monday and runs through Jan. 1.
It is illegal to light or possess fireworks within 5,000 feet of the Austin city limits. Items that are legal for Austin residents to spark include:
Sparklers with wooden sticks, not wire sticks
Smoke bombs
Glow worms or snakes
Poppers, trick noisemakers or snappers
Fireworks safety tips
If you are celebrating the holiday with fireworks, here are some safety tips from the National Fire Protection Association.
Know your fireworks; read the cautionary labels and performance descriptions before igniting.
A responsible adult should supervise all firework activities.  Never give fireworks to children.
Alcohol and fireworks do not mix.  Save your alcohol for after the show.
Wear safety glasses when shooting fireworks.
Light one firework at a time and then quickly move away.
Use fireworks outdoors in a clear area; away from buildings and vehicles.
Never relight a "dud" firework.  Wait 20 minutes and then soak it in a bucket of water.
Always have a bucket of water and charged water hose nearby.
Never carry fireworks in your pocket or shoot them into metal or glass containers.
Do not experiment with homemade fireworks.
Dispose of spent fireworks by wetting them down and place in a metal trash can away from any building or combustible materials until the next day.
FAA regulations prohibit the possession and transportation of fireworks in your checked baggage or carry-on luggage.
Report illegal explosives, like M-80s and quarter sticks, to the fire or police department.
Source: https://www.kxan.com/news/texas/fireworks-shortage-is-over-in-central-texas-retailers-say/
San Antonio's official New Year's Eve celebration, fireworks display returns to Hemisfair this year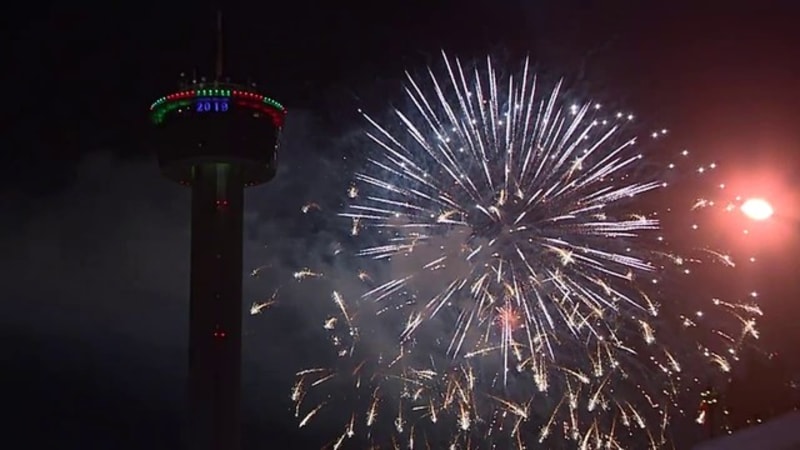 SAN ANTONIO – Celebrate SA — the city's official New Year's Eve celebration is back on after taking a hiatus last year due to the COVID-19 pandemic.
The city is once again expecting tens of thousands of people in the downtown area to bring in 2022.
Celebrate SA will take place on Alamo Street, La Villita and Hemisfair between Market Street and Cesar Chavez Blvd with live music and a fireworks show at midnight.
The event, which is put on by the San Antonio Parks Foundation, kicks off at 6 p.m. and is free to the public.
There will be a carnival located at the corner of S. Alamo Street and César E Chávez Blvd with games, rides, and attractions. There will also be food and artisan vendor booths along South Alamo and Villita Way.
The entertainment lineup on the Hemisfair stage includes DJ Catwalk, R&B artist Andria Rose, and party band Mélange.
There will also be live entertainment on the Arneson River Theatre stage along the River Walk and Xavier the Freakin' Rican will deejay on the Vibe Stage, located at the corner of Villita Way and S. Alamo.
"We are grateful we can once again come together to celebrate! Returning to downtown with the support of our partners is a wonderful way to ring in the New Year. We look forward to building on our 40th year with transformative park projects and public programming for years to come. It's such an honor for us to continue to organize this celebration year after year." said Mary Jane Verette, CEO & President of the San Antonio Parks Foundation.
Source: https://www.ksat.com/news/local/2021/12/09/san-antonios-official-new-years-eve-celebration-fireworks-display-returns-to-hemisfair-this-year/