These towering 'castles' are the biggest, highest-profile examples of the pyrotechnics artisan tradition in Tultepec, but others include fireworks-rigged papier mache bulls or Judas figures. All three types are popular throughout Mexico. (Photo: Guillermo Rivera/Turismo Mexiquense)
The first time I heard the oh-so-common sound of bottle rockets going off in Mexico, my first thought was "gunfire." But, then, I had lived 11 years in Arizona.
As should surprise no one, fireworks are an incredibly big business in Mexico. The Mexican government calculates that a staggering 5.87 billion pesos are spent each year in the country on fireworks, just for patron saint days, as it is unthinkable to do without them.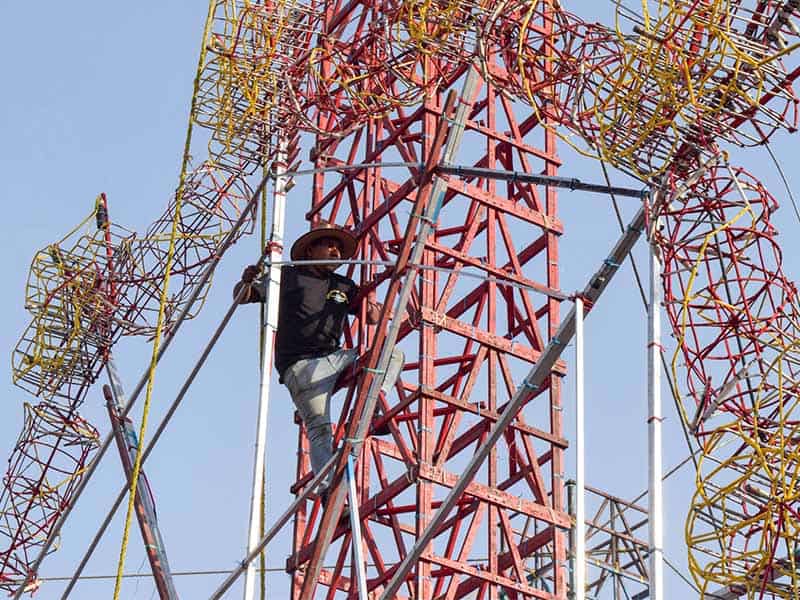 But unlike in many other countries, few of Mexico's pyrotechnics shows are highly regimented affairs done only by professionals. Instead, most are made by artisans for individuals and small communities.
Traditional Mexican fireworks are a folk art, on par with others like pottery and textiles. This is reinforced by the construction of castillos (castles). It is one of several culturally important structures in Mexico that get laden with fireworks — but probably the most impressive, both because of size and because of the wide range of creative variations.
A castillo is one or more towers made from wood, onto which a fireworks show is attached. The show centers on wheels placed on the tower(s), which are powered by small rockets affixed to the edges.
Like toritos (little bulls) and Judas effigies, the public can get pretty darn close to the action, but what really sets these castillos apart are the scale.
This video from 2022's pyrotechnics fair at Tultepec shows what it's like to be up close to the not-so-small toritos (little bull) at the Tultepec fair when they are set off, much to spectators' delight.
Typically between 8–12 meters tall, castillos cost between 50,000 and 250,000 pesos per tower, meaning that only parishes, municipalities and other large organizations can afford to commission one — and only for important events such as patron saint days and major political holidays.
There are two kinds of castillos. Which is used depends on when they are intended to be used.
Those destined for a nighttime event night are fireworks-heavy, providing both wheel motion and a colorful show. Those intended for the daytime have spinning wheels as well, but the visual is provided by decorative paper and/or whimsical papier mache figures.
Despite their cost, Mexico ranks first in the world in the making of castillos, according to the Instituto Mexiquense de la Pirotecnia (Mexican Pyrotechnics Institute). An average of 51,922 castillos are set off per year — again, just for patron saint days — costing a whopping 2.6 billion pesos, a close second to individual fireworks sales.
México state accounts for over 60% of the country's fireworks production, but when you talk about fireworks, you talk about the municipality of Tultepec. Located just north of Mexico City proper, Tultepec has produced fireworks (and gunpowder) since the colonial period.
Most of the population is involved in the industry in one way or another, from the making of the fireworks proper to making castillos, toritos, Judases and more.
All these are still done by hand in small workshops and factories. Officially regulated by the Secretary of National Defense, there is still a laissez-faire attitude about the constructions of these items that might shock those of us from more regulation-heavy countries.
Do accidents happen? Absolutely, but efforts to completely control production and sales have met with resistance.
Tultepec's patron saint is John of God, and like other municipalities, his annual feast day on March 8 has been an important opportunity to promote its main economic activity. Such promotion began in the late 19th century, focusing on bulls and religion, but since the National Pyrotechnic Festival (Feria Nacional de Pirotechnia) was established in 1989, the festival has grown and secularized tremendously.
The event now runs over a week, both before and after the saint's day, but the running of fireworks-laden bulls in honor of the saint is now only one of various attractions, such as concerts, dances, sky lantern releases and various fireworks competitions.
Originally, only Tultepec artisans could compete, but now Mexican and even international fireworks makers can demonstrate their skills in castillos, pyrotechnics displays set to music and more.
Castillo artisans compete in two categories, day and night, on two different days, with teams of a dozen or more working frantically for two weeks to build structures between 25–30 meters tall, loaded with fireworks and various gizmos.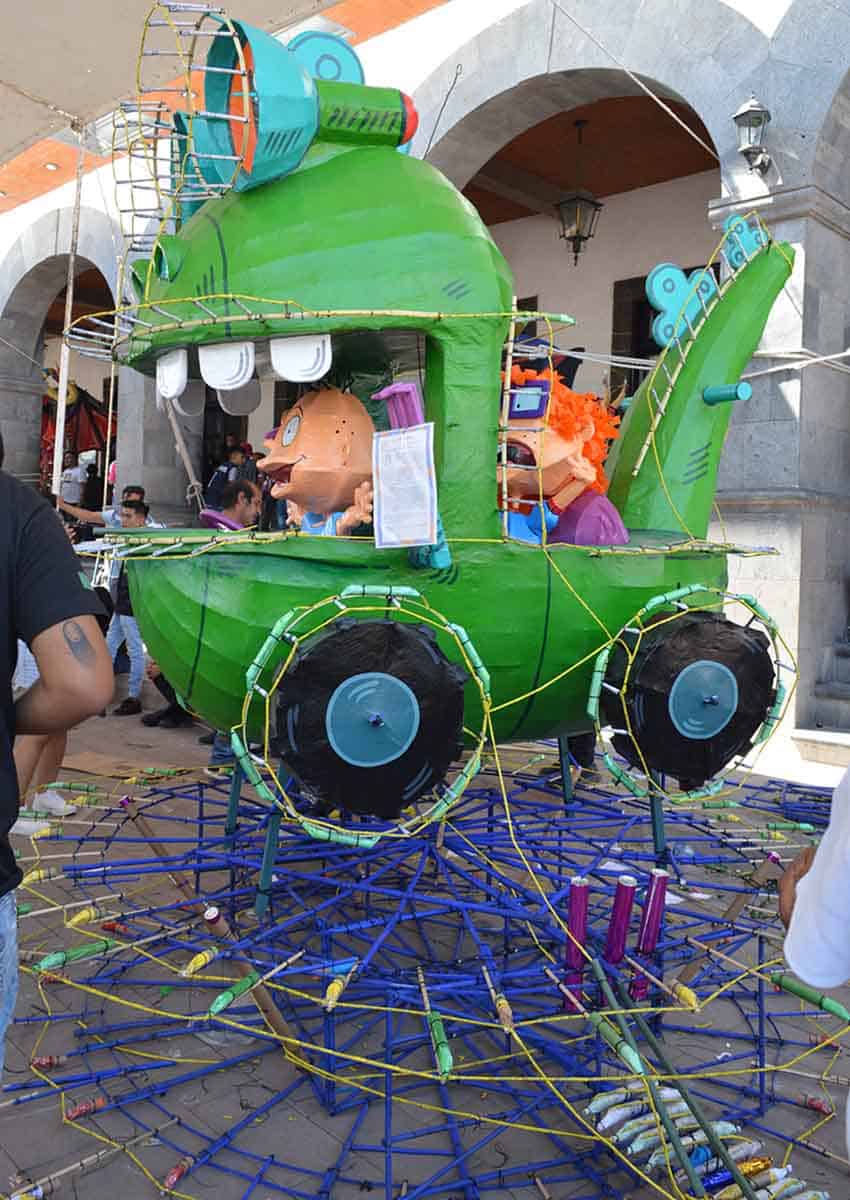 The festival is still organized and controlled locally, but México state provides significant support as fireworks can drop anywhere from 500 million to 1.2 billion pesos into México state's economy in any given year. The festival is now a major regional tourist attraction.
Decades ago, fairgrounds were established primarily for the castillos, but with crowds reaching 250,000, just about all activities have now been moved over to the area in the Pico de Orizaba/Tlamelaca neighborhood.
Although no longer local, the National Fireworks Festival is still extremely important for Tultepec. Long-ago swallowed up by Mexico City urban sprawl, the municipality struggles to maintain a distinct identity. The attention is also important because, like other Mexican folk art, handcrafted pyrotechnics is in danger of disappearing, thanks to cheaper fireworks imports from China and elsewhere.
The state admits that its technology is at least 50 years behind the rest of the world. But Mexican fireworks and their displays have links to culture and tradition that foreign rockets cannot hope to match.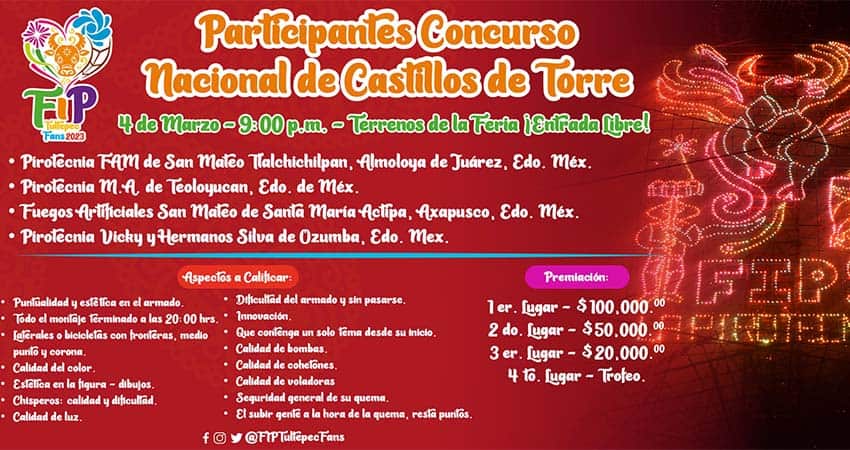 This year's festival starts Friday and runs until March 13. If you're not able to get there, many of the events are televised, and you can also see it on videos available on YouTube and other social media.
Source: https://mexiconewsdaily.com/culture/tultepecs-castles-art-from-mx-fireworks-obsession/