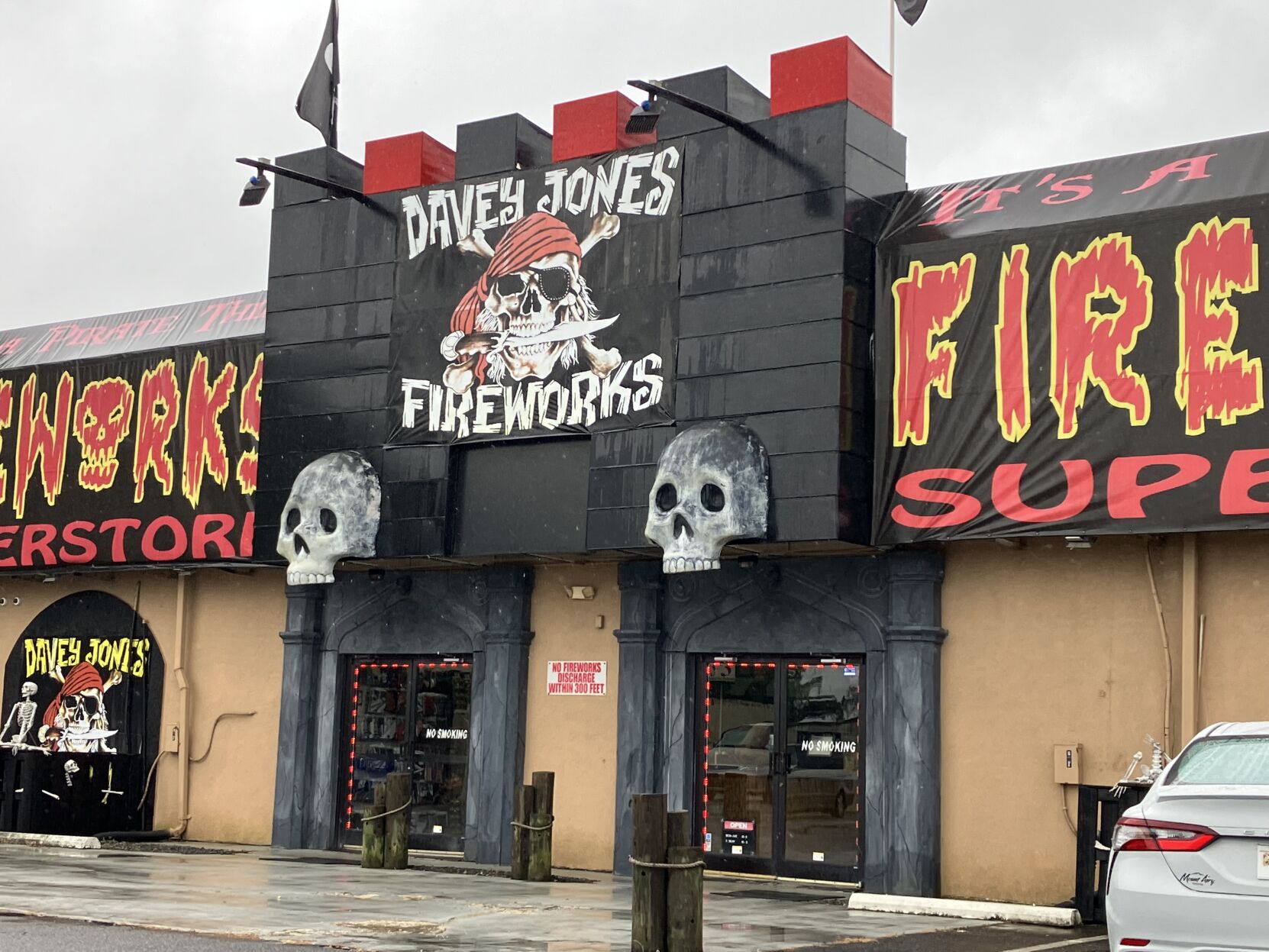 FORT MILL — Positioning is key for the fireworks shops off Interstate 77 at Fort Mill's northernmost exit.
There's five fireworks shops immediately off the highway at the South Carolina state line where North Carolinians can cross if they want to buy the more explosive, aerial types of fireworks. The Tar Heel state prohibits the sale and use of fireworks, while South Carolina allows several types, such as bottle rockets or artillery shells.
The S.C. stores along the N.C. border also remained in good shape for taking advantage of the increase in fireworks sales after the pandemic began. Across the country in the summer of 2020, many municipal fireworks shows were canceled in the effort to promote social distancing. In their absence, residents held their fireworks shows at home.
"COVID made for banner years for the fireworks industry," said Roger Aiton, 70, manager at Davey Jones Fireworks Superstore in Fort Mill. "People found out how fun it is to have the family and the neighborhood get together. You have that closeness, the cookouts and the entertainment they could do at their homes."
Aiton said he couldn't forecast how well his store or others will do with the lead-up to another July 4 holiday, but he was optimistic the trend of home and neighborhood fireworks shows will continue.
"It's become a tradition for them," he said.
It's also a tradition for North Carolinians to make the trip to York County and other parts of South Carolina to pick up fireworks. Aiton said he didn't know the breakdown of what percentage of sales are from cross state buyers.
"They could be coming from North Carolina and buying them here, but setting them off in South Carolina," Aiton said.
But some N.C. legislators are trying to change the laws to even fireworks fight with South Carolina. There's been legislative efforts in Raleigh to end the N.C. prohibition.
In April, state Sen. Amy Galey, a Republican from Alamance County, filed Senate Bill 470 to allow North Carolinians to buy aerial fireworks, roman candles or similar major bursting displays currently prohibited. The bill is still in committee, she said, with no timetable for when it could be moved. It's her third attempt to allow fireworks sales in North Carolina.
"The people in my district would really like to enjoy some legal fireworks other than the sparklers and the spinners you can buy at the grocery store," Galey said. "And we should be able to capture that revenue here in North Carolina."
A co-sponsor of the bill, state Sen. Vickie Sawyer of Mecklenburg County, also backed similar legislation in 2019 that failed to progress at the General Assembly.
Even without new laws allowing more people to buy and use fireworks, many vendors and public safety officials have their concerns about novice users harming themselves with the devices.
"People still come in and say 'I've never shot fireworks, but I want to try it,' " Aiton said. "The first thing we do is talk about safety."
In York County, Piedmont Medical Center's Emergency Management Services said the increase in injuries in recent years were minor burns from fireworks that allowed patients to drive themselves to hospitals for treatment.
Nationwide, fireworks injuries increased from 10,000 in 2019 to more than 15,000 in 2020, according to the U.S. Consumer Product Safety Commission. The agency attributed the 50 percent increase to more fireworks use at home.
Now that municipalities have resumed hosting fireworks shows, Piedmont EMS Director Eric Morrison recommends people enjoy those shows and leave the pyrotechnics in the hands of professionals.
"People forget these are small explosives devices, not just decorative and colorful," Morrison said.
Aiton advises customers to avoid setting off fireworks on grass or gravel as a precaution against starting a fire. They should also keep water nearby, he said. And spectators should keep a distance from the person setting off the fireworks, he said.
Both Morrison and Aiton agreed that anyone drinking alcohol should not be lighting fireworks.
And if anyone misses a fireworks show on July 4th, there's one show ongoing not tied to the holiday. Carowinds Park in Fort Mill, which straddles the state line, is celebrating its 50th anniversary with a nightly series of shows called "50 Nights of Fire." The shows began June 17 and will continue through early August.
Source: https://www.postandcourier.com/rock-hill/news/sc-fireworks-stores-seeing-post-pandemic-sales-boom-as-nc-eyes-ending-bans/article_54dcbdb2-0f82-11ee-8c3b-aff440019e72.html