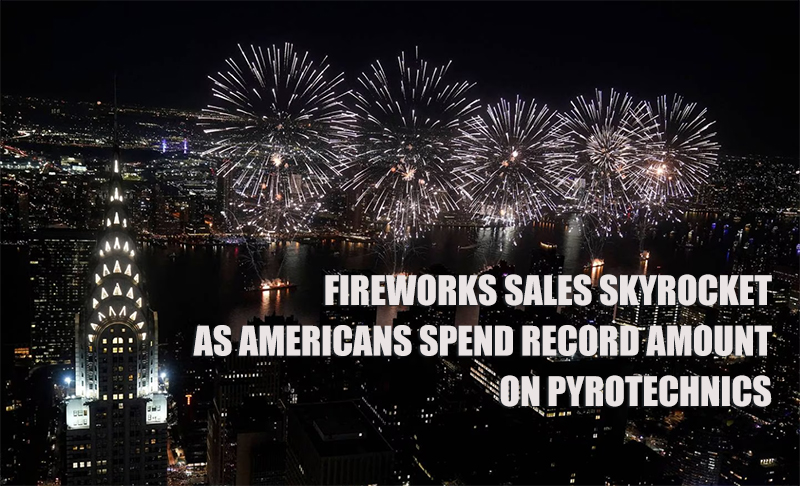 Sales expected to hit an 'all-time high', with figures suggesting fireworks market should increase by $100m from last year.
Cost of living, poor air quality and environmental concerns are no match for Americans' willingness to spend a record amount on fireworks, according to reports ahead of the Fourth of July holiday.
According to the American Pyrotechnics Association (APA), US consumer fireworks retailers have reported that sales of rockets, missiles, roman candles, aerial spinners, parachutes, sparklers, poppers, fountains, jumping jacks and firecrackers should increase by about $100m this year over 2022.
"Fireworks use is expected to hit an all-time high this year, especially with July 4th falling on a Tuesday," the director of the APA, Julie Heckman, said ahead of the holiday commemorating the US's independence from the UK. "We predict revenues could exceed $2.3bn for the 2023 fireworks season."
The figures suggest Americans are spending three times more than they did in 2012, when consumer sales stood at $645m, and sales could top $3.3bn by 2028.
Previous studies have show that firework sales are skewed toward young people, with 18-to-24-year-olds spending double the national average. According to a 2013 Visa study, the demographic's members spend $70 each on fireworks, with that figure dropping to $13 for people who are 65 and older.
Firework pyromaniacs were also more likely to be in the US south and midwest, where people spend twice as much on average as those in the north-east and west. Men typically planned to spend twice as much as women, Visa found.
A national firework boom leaves Massachusetts residents out. Their state remains the lone one in the US that bans consumer fireworks entirely while Vermont and Illinois only allow wire or wood-stick sparklers.
Source: https://www.theguardian.com/us-news/2023/jul/01/fireworks-sales-usa-record-number